Portrait
omniCon Gesellschaft für innovatives Bauen mbH is a company specialised in construction management.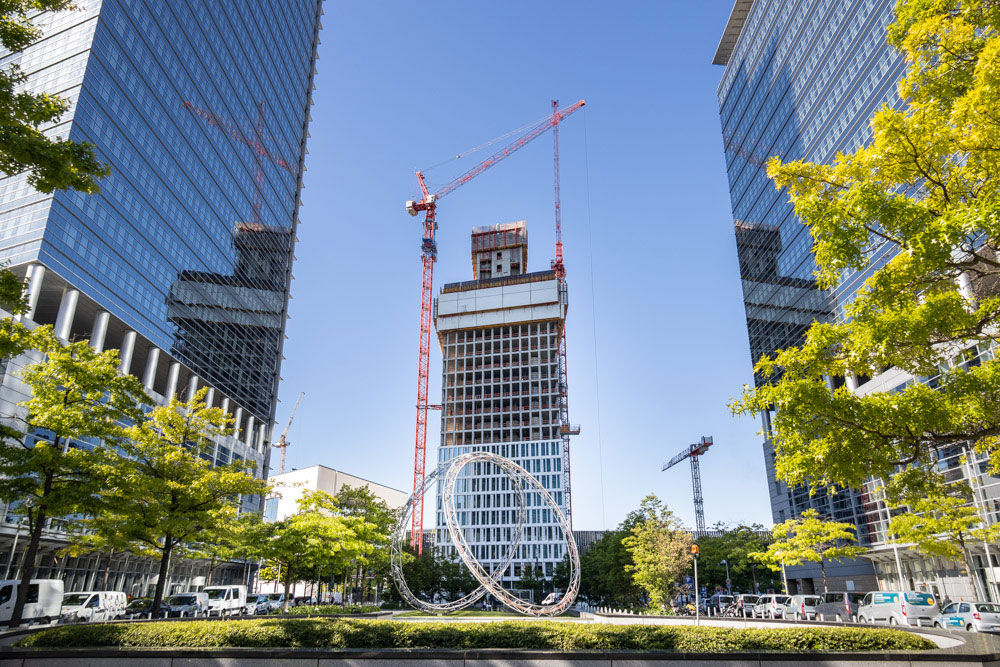 omniCon specialises in the management of commercial construction projects in the range between EUR 10 and 500 million, with a particular focus on the office, hotel, shopping and residential segments. In addition, the company has extensive experience in accompanying conversion processes (obtaining planning permits, property preparation, infrastructure) of former industrial properties.
omniCon currently has branches and offices in four locations: Frankfurt, Berlin, Munich and Basel. In addition, the project team always has a local project office at the project location.
omniCon was founded in 2001 and already celebrated its 20th anniversary in 2021. The company has been part of the CA Immo Group since 2008. In 2021, omniCon employed around 120 employees. The annual turnover in the same year was around 22.5 million euros.
In its function as construction manager, omniCon supervises and coordinates all work phases in the planning and construction process for clients and investors, ensuring that the buildability and feasibility of construction projects are taken into account in early planning phases. This results in a more effective influence on the factors of time, cost and quality that are relevant to success.
omniCon's areas of expertise range from the supervision and coordination of work phases 1 – 5 HOAI to the execution of work phases 6 – 9 HOAI and project management services in accordance with AHO.
As a construction manager, omniCon, like a general contractor, also handles all services in the construction process itself. The aim is to manage and complete the project in the interests of the client and investor in such a way that the project goals and requirements in terms of time, costs and quality are met.
In this sense omniCon acts for its clients as an internal "temporary construction department". In contrast to the general contractor, the focus is not on maximising its own profits, but on the success of the project for the client.
At the same time, omniCon has a broad, trustworthy and resilient network of planners and, in particular, of construction companies. Construction companies in particular appreciate omniCon's role in managing construction projects and trust in its professional management.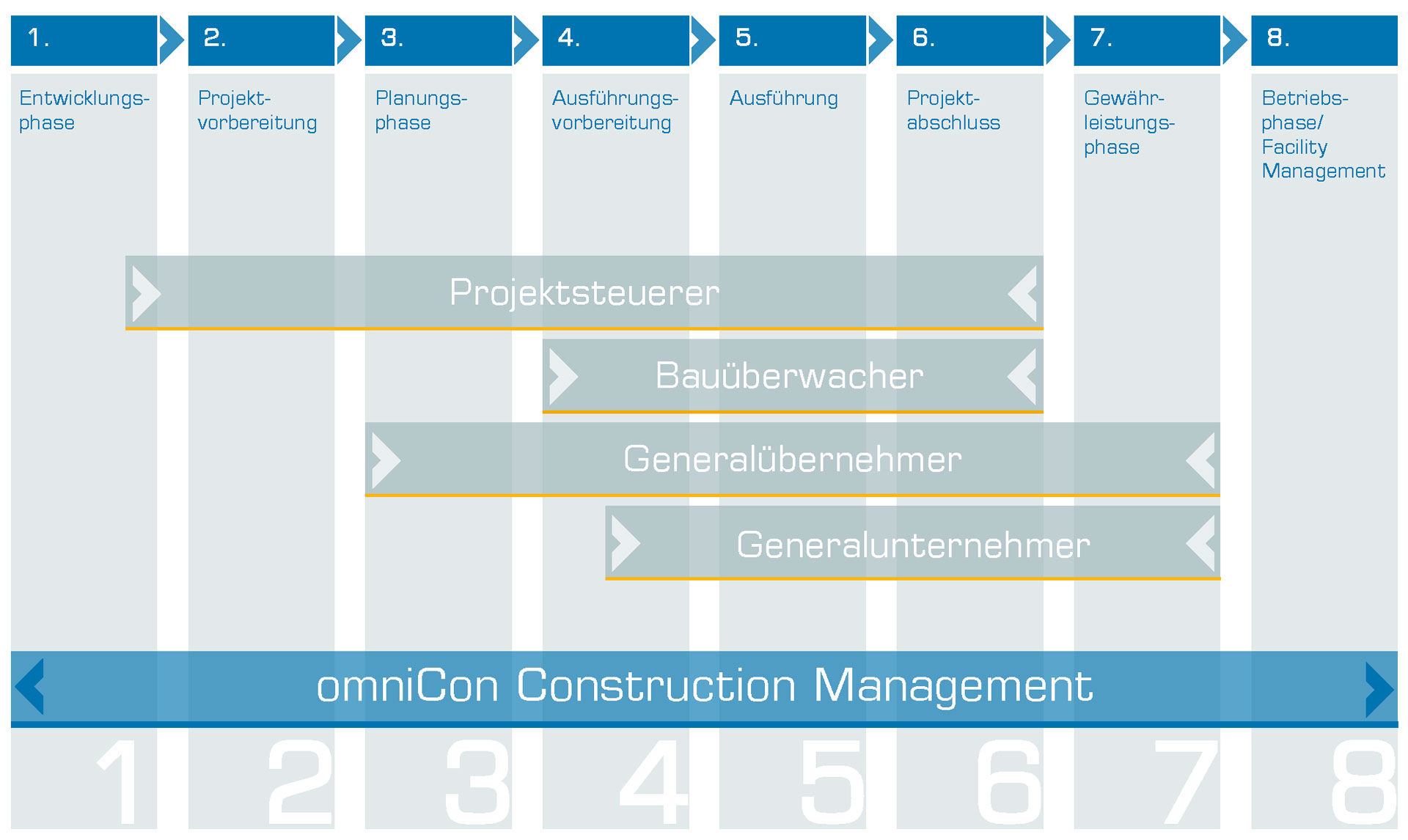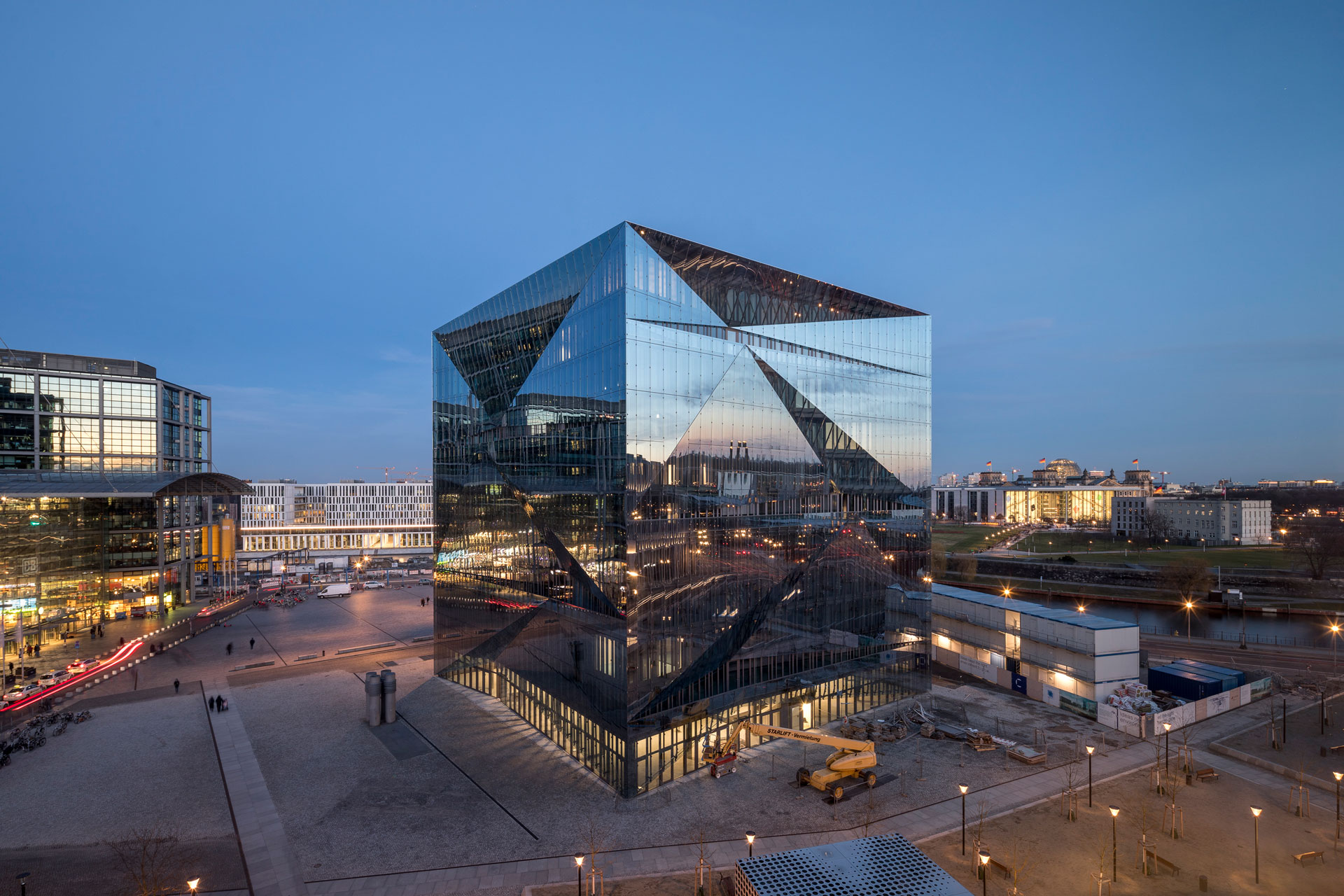 The most well-known completed projects of omniCon include the Tower 185 office high-rise, the Skyline Plaza shopping centre and the KAP Europa conference building in the Europaviertel in Frankfurt. This is where omniCon was managing the construction of yet another innovative building: the ONE office and hotel tower that was completed in 2022. In Berlin, omniCon's projects include the Smart Commercial Building cube berlin, the office buildings TOUR TOTAL, John F. Kennedy Haus and the Mercedes Benz Distribution Centre as well as the ALEXA shopping centre. In Munich the MY.O and Ambigon office buildings and in Basel Bau 1 and Bau 2, the tallest office tower in Switzerland, were implemented by omniCon.
Clients of omniCon include CA Immo, F. Hoffmann – La Roche AG, Volkswagen AG, Tishman Speyer and DIC.
Tendering and awarding of planning and construction contracts
Construction logistics planning
Cost estimates
Scheduling of planning and construction work
Value engineering and construction process optimisation
Planning coordination of all project stakeholders
Project management
Construction supervision
Property preparation and public and internal infrastructure
Project monitoring and cost controlling
Contract management for planning and construction work
Commissioning management
Due diligence
Further tenant fit-out
Sustainability management
Team
At the root of omniCon's success is its team of over 100 employees.
Competent, professional and responsible, they manage important project developments in major cities in Germany, Austria and Switzerland. They coordinate, support and advise, and are the competent contact persons for planners and building contractors directly on site. Our team has more than xy years of combined professional experience, which is needed to meet the diverse requirements of innovative construction management.
All in all, our team has professional competence for the diverse requirements of innovative construction management.
Markus Rink
Managing Director, Head of Implementation
Responsible for the operative departments such as planning, construction and project management
Frieder Keller
Head of Planning Department
Responsible for planning concept and planning coordination
Sebastian Eckernkamp
Managing Director, Head of Administration
Responsible for the administrative departments such as finance, human resources, IT, legal and tax, innovation and digitalisation.
Frank Finkenauer
Head of Project Management
Responsible for project management and project service function
Michael Wieland
Head of Procurement
Responsible for contract management, tendering and awarding and cost determination
Steffen Heyde
Head of Innovation and Digitalisation
Responsible for strategy development, implementation and expert network
Would you like to be a part of our team?
For current job opportunities and information about omniCon as an employer, please click here.