Topping-Out Ceremony in Berlin for high-rise building on Europaplatz in Berlin
Today, CA Immo together with secretary of state Barbro Dreher and numerous guests celebrated the topping-out ceremony for the high-rise building on Europaplatz in Berlin's Europacity. CA Immo had already completely let the high-rise building with approx. 23,000 m² rental area to KPMG AG Wirtschaftsprüfungsgesellschaft on a long-term basis before construction began. The project is due to be completed by the end of 2023. omniCon supervises the project as construction manager.
Secretary of state Barbro Dreher emphasised in her welcome, "I am pleased that Europacity is increasingly taking shape. This district has been a symbol of our city's impressive economic development in recent years. Like KPMG, many international companies have already located here. But room has also been created for somewhat smaller local or regional companies and above all the residential space so urgently needed in Berlin. Berlin needs precisely such locations in order to remain attractive in future both for companies and their employees and our citizens."
Andreas Quint, CEO of CA Immo, added, "The Berlin office property market is one of the most attractive rental and investment markets in Germany. However, it is also evident, particularly in the current era, that the central location and high quality of buildings are decisive. As a company, we would like to, and will, play our part in the transition to a sustainable economy, which in our eyes is unavoidable. Consequently, at CA Immo we set great store both on sustainable, innovative construction methods as well as the resource-saving operation of our buildings. With KPMG, we are delighted to have found a tenant for this building who shares these values."
Michael Salcher, Regional Head East of KPMG AG Wirtschaftsprüfungsgesellschaft, "Europacity is already very familiar to us as a location. As an international consulting company, we want to create a campus for our employees in this central location in the heart of Berlin, which is characterised by outstanding transport links and an overall modern and high quality environment. As part of our efforts to consolidate all activities at Europaplatz, we were already able to move into two neighbouring buildings a few years ago, also developed by CA Immo. CA Immo has proven to be an outstanding partner for implementing our sophisticated, modern office concepts."
KPMG will move into the new building from the beginning of 2024 and set up its new Berlin headquarters here. The company had already erected and leased about 13,000 m² in the neighbouring building at Heidestrasse 58 in March 2018, likewise erected and leased by CA Immo. Moreover, in 2019, KPMG moved into the around 2,800 m² nearby office building developed by CA Immo on the art campus.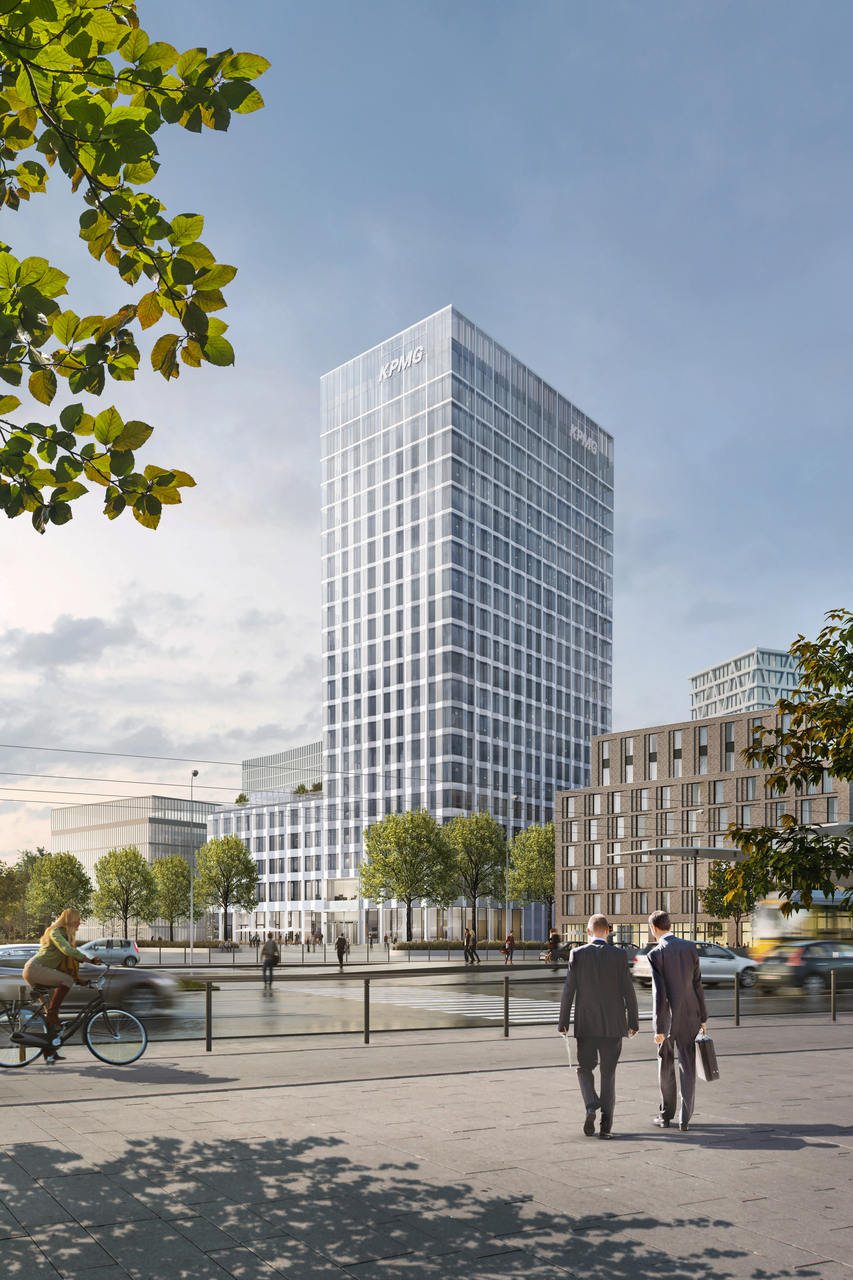 Focus on sustainability
Like all building developments by CA Immo, this building will also be realised subject to observance of strict sustainability criteria. The efforts here are not only focused on energy-optimised and resource-saving operation, but also on the most sustainable construction process possible. The carbon footprint of the building was optimised across the entire life cycle with the help of a life cycle analysis and as a result is about 15 percent below the current recommendations of the German Sustainable Building Council (DGNB). The statutory requirements with regard to primary energy consumption in the later operation of the building are likewise clearly undershot by about 15 percent – as a result, the building is a nearly-zero energy building according to the EU Commission definition. The CO2 emissions forecast for the building operation will even be almost 40% below the current reference value. After completing the building, CA Immo will have sustainability certification carried out according to the DGNB. A minimum gold certificate is the aim here. Currently, over 74 percent of all CA Immo office buildings have a sustainability certificate.
The high-rise building designed by Allmann Sattler Wappner Architekten (Munich) with its roughly 84m-high tower and the 4-6 floor plinth structure establishes an urban planning tone visible from afar on the north side of the Berlin central railway station. The building has a total of 22 floors and was designed according to the needs of KPMG. For example, in addition to the office floors, it will have a modern conference centre and a cafeteria for employees – known as the "Sky Deli" on the top floor of the building. In addition, two roof terraces will be available to employees on the roof of the plinth structure. On the ground floor, an inviting, ample lobby with a multi-floor atrium and a publicly accessible restaurant is available to both visitors and KPMG employees.
The high-rise building on the Europaplatz is already the ninth building erected in the Europacity district by CA Immo. A new, mixed-use urban quarter has been evolving for about 12 years on an area of about 60 ha right by the Berlin central railway station. As one of the principal owners of the land, CA Immo has in recent years promoted the development of the area in close cooperation with State of Berlin. Numerous buildings in the area have already been completed by CA Immo and adopted in its own portfolio. These include Tour Total, John F. Kennedy Haus, the office building Heidestrasse 58 and the office building at the art campus. Moreover, CA Immo also realised the free-standing building cube berlin on the Washingtonplatz. In addition, 8 September 2021 saw the start of the construction of "upbeat" at Nordhafen, which has already been completely let to Deutsche Kreditbank AG (DKB).